Truman's Master of Accountancy program takes your professional development to the next level so you are well-prepared for the certified public accountant (CPA) exam. As a professional accountant, you need the ability to think critically, analyze data, make recommendations and communicate effectively. At Truman, you acquire these skills plus much more through research ventures and professional business organizations. You become a leader, an engaged citizen, a supportive colleague, and a highly capable professional. Leverage your accounting expertise with an advanced degree from our fully accredited program so you can set yourself apart from the crowd and successfully pursue top jobs in the field of accounting.
Excel on the CPA Exam
In combination with an undergraduate degree in accounting (such as Truman's Bachelor of Arts in accounting), our program satisfies the requirements to sit for the Certified Public Accountant (CPA) exam. You can earn your master of accountancy degree in one year, and upon graduation, you will be well-equipped for the CPA exam—our graduates have a reputation for consistently passing all parts of the exam on their first try.
You might also be interested in:
Our master's students rank in the top 5%
for first-time pass rate on CPA exam


Top accounting firms
around the country recruit Truman graduates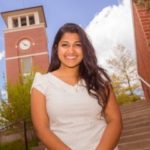 As a student, I was able to shadow Ernst & Young staff for a couple of days long before I thought about interning with them. I also had the opportunity to lead Beta Alpha Psi's Best Practices team into a Regional Competition where we presented on a student-run tax program called VITA, and I attended the Beta Gamma Sigma conference in Indianapolis where I got to meet members from all over the States and the world. There were some great speakers and activities to meet future accountants and business leaders.
News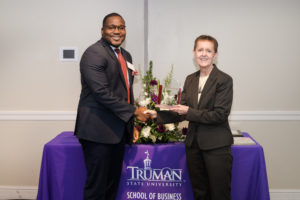 May 16, 2017
Ope Amosu is a Corporate Account Executive at GE, responsible for developing mutually-viable relationships between GE and each of the independent North American oil and gas operators. In conjunction, he leads the company's Oilfield Produced Water Treatment initiative. Ope is a 2010 graduate of Truman State University, earning a BA in Marketing. In 2014, he […]
The post Amosu Named Young Alum of the Year appeared first on Business blog.
Follow the School of Business on: