Career opportunities in accounting are boundless—from corporate to nonprofit to education to small business—and our accounting program prepares you for success no matter what professional path you decide to pursue.
Truman's School of Business and accounting program are accredited by AACSB International, The Association to Advance Collegiate Schools of Business, the gold standard of business school accreditation worldwide.
With the flexibility of our accounting program, you can explore courses in our Business Administration program with areas of concentration in Finance, International Business, Management, and Marketing. After earning a Bachelor of Science in Accounting, many students decide to continue their education and apply for Truman's Master of Accountancy program to meet the educational requirements to sit for the Certified Public Accountant (CPA) exam.
Practical Knowledge and Advanced Skills
At Truman you get all the tools you need to become an effective professional accountant—you learn about financial accounting and business systems, cost accounting, auditing and taxation. And you develop advanced skills for leadership, oral and written communication, teamwork and critical thinking—some of the most important qualities employers are seeking.
Small Classes and Collaborative Learning Experience
Our supportive learning environment is designed to ensure your success with resources like our Academic Peer Mentor Program and the Business Academic Advising Center. And you will will find plenty of opportunities to expand your learning beyond the classroom through research ventures, professional business organizations and professional internships, as well as exciting study abroad opportunities.
Career Prospects for Accounting Majors



Graduates of our accounting program are highly sought after by a wide range of employers, and our accounting majors also gain acceptance at notable graduate and professional schools.
Follow the School of Business on: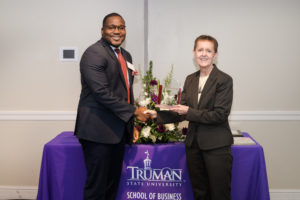 Amosu Named Young Alum of the Year
May 16, 2017
Ope Amosu is a Corporate Account Executive at GE, responsible for developing mutually-viable relationships between GE and each of the independent North American oil and gas operators. In conjunction, he leads the company's Oilfield Produced Water Treatment initiative. Ope is a 2010 graduate of Truman State University, earning a BA in Marketing. In 2014, he […]
The post Amosu Named Young Alum of the Year appeared first on Business blog.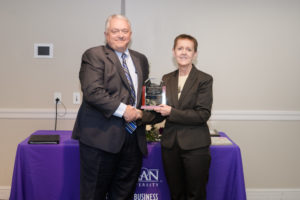 Wilson Named Alum of the Year
May 16, 2017
Tim is national industry partner for BKD National Construction & Real Estate Group.  He has more than 30 years of experience performing audit, accounting, tax and management consulting services in various industries.  He assists clients in the areas of business and strategic planning, operational and control reviews, mergers, acquisitions and consolidations, financial forecasts, feasibility studies, […]
The post Wilson Named Alum of the Year appeared first on Business blog.